ILO and Kapaeeng Foundation Organised Training for Government Officials on Indigenous Navigator Framework and Tools
ILO and Kapaeeng Foundation Organised Training for Government Officials on Indigenous Navigator Framework and Tools
Targeting at government officials and indigenous community leaders, a two-day long national level training on 'National Laws and the Practices of the CHT Regulations, SDGs, Human Rights Instruments and Indigenous Navigator Framework & Tools' was held at Rainbow Hall, Hotel Lake Castle, Gulshan-2, Dhaka from 29-30 July 2018. The training was jointly organized by International Labour Organization (ILO) and Kapaeeng Foundation. A total of 30 government officials and indigenous representatives from different regions attended the training. The purpose of the training was to sensitize respective government officials about customary laws of indigenous peoples, SDGs, international instruments on IPs, and Indigenous Navigator framework and tools.
Opening Session:
Moderated by Mr. Alexius Chicham, National Project Coordinator of ILO, the inaugural of the training was attended by O N Siddqua Khanam, Additional Secretary, Ministry of Chittagong Hill Tracts Affairs (MoCHTA) as Chief Guest while Mr. Pallab Chakma, Executive Director of Kapaeeng Foundation chaired the event. Prof. Akhter Hussain, Honourable Member, National Human Rights Commission of Bangladesh, and Mr. Gagan Rajbhandari, Deputy Country Director, ILO Country Office for Bangladesh graced the event as Special Guest.
Mr. Gagan Rajbhandari delivered the welcome speech of the training. First of all, he thanked the Ministry of Chittagong Hill Tracts Affairs (MoCHTA) for providing necessary support in organising this training. At the same time, he said ILO is extremely grateful and encouraged by the effective partnership which has evolved between ILO and the Ministry over the past years. He said that the European Union funded project 'Improving Indigenous and Tribal peoples' Access to Justice and Development through Community-based Monitoring', is managed and mobilized by ILO HQ. This training is part of the mentioned project. The purpose of the training is to build capacity on international standards on Indigenous and Tribal Peoples and the Indigenous Navigator framework, and establishing a thematic National Human Rights Institute network in Indigenous and Tribal Peoples, he further added. Mr. Gagan said this training will provide a good opportunity to discuss, debate and eliminate gaps in understanding in many critical issues related to the rights of indigenous and tribal peoples in Bangladesh. He expects representatives of MoCHTA, relevant ministries and line departments at the training will show their commitment for socio-economic development of indigenous peoples (IPs). I am hopeful that Bangladesh government will ratify ILO Convention-169, he expressed his hope at the end of the speech.
Land dispute is the main problem for IPs both in the hills and in the plains of Bangladesh, said Special Guest Professor Akhter Hussain during his speech. In order to settle land related issues, he strongly emphasized on affirmative actions. Professor Hussain believes that Bangladesh need to ratify ILO Convention No. 169 for the betterment of indigenous peoples since it does not contradict with national interest of Bangladesh. National Human Rights Commission (NHRC) is always watchful on the rights of indigenous peoples. It comes forward every time when violations of human rights occur with the indigenous peoples, adds Professor Hussain. NHRC tries to liaise with relevant department and ministries on the issues relevant to indigenous peoples that need immediate attention.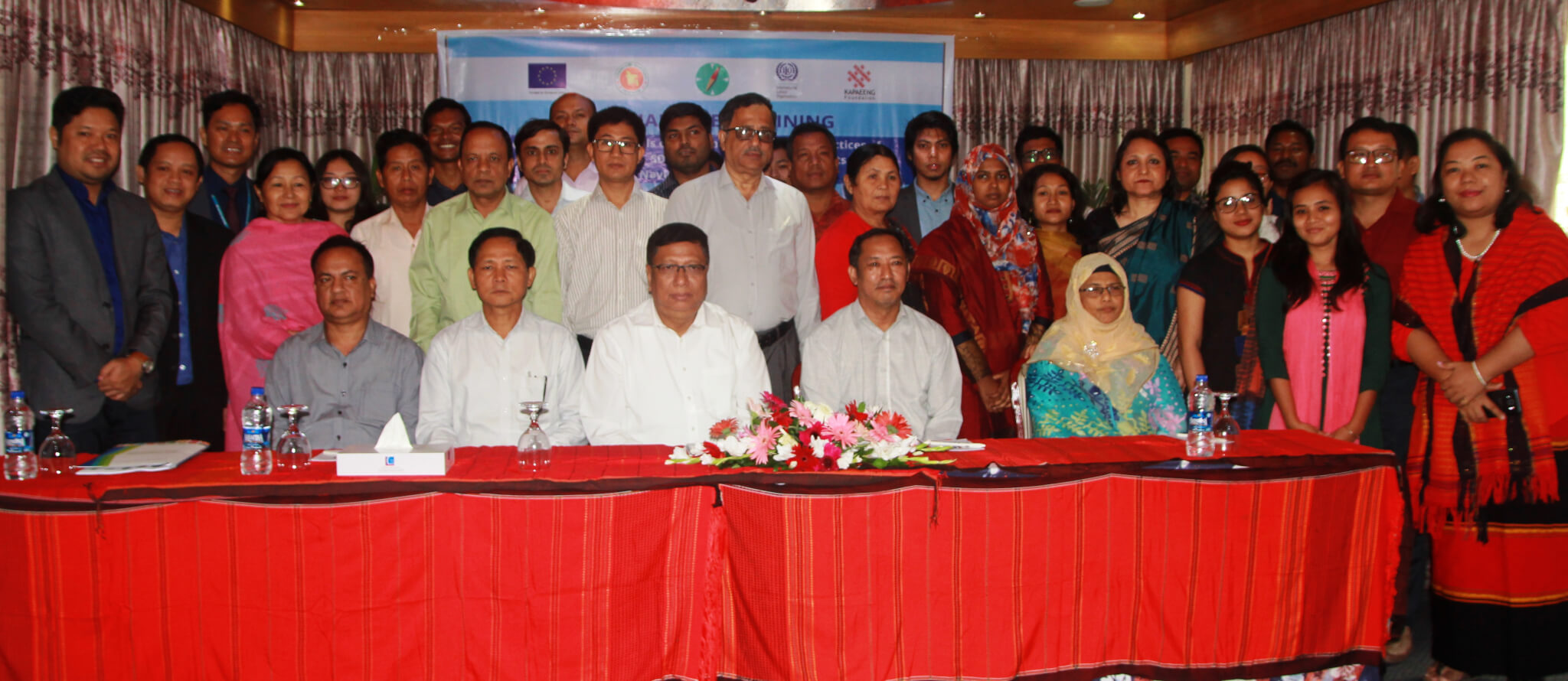 The government is taking a number of initiatives to protect human rights of IPs, states Ms. O N Siddiqua Khanam during her remarks as Chief Guest. All the problems of IPs will be dealt with the support of relevant ministries and donors. She assured that MoCHTA will continuously provide support on indigenous and tribal peoples' issues as it is currently providing through different project and programmes. She said that the importance of this training stands out on the distinct administrative system and regulations of CHT along with the culture, traditional livelihood and custmary law of the ethnic peoples. The same is applied to the ethnic peoples living outside of CHT except the particular administrative system to govern them. This distinct administrative system and distinct cultural people of the region imperatively set necessity for Government officials posted or to be posted in the CHT to have prior understanding and knowledge on history, background and existing national laws. Therefore, this training aspires to meet this necessity of Govt. officials to gain the knowledge through two-days intensive trainings on the topics mentioned. She reiterated that the MoCHTA will extend all possible support for proper implementation of the Indigenous Navigator project for indigenous and tribal people of Bangladesh. Finally she thanked ILO and Kapaeeng Foundation for organizing this important training for government officials.
On the other hand, Pallab Chakma, express his gratitude to ILO for supporting Kapaeeng in developing skills of indigenous and tribal peoples. He also highlighted different government steps for the development of indigenous peoples, including introducing mother tongue based pre-primary education in five indigenous languages, enacting Small Ethnic Groups Cultural Institutions Act, constructing CHT Complex in Dhaka and so on. He further said GoB is implementing different socio-economic development programme. However, these programmes should be implemented respecting the local culture of indigenous peoples. MoCHTA is the only territorial ministry in Bangladesh. That's why it has great responsibilities for the development of the CHT people. Mr. Pallab express this training would create opportunity for government officials to know about different aspects of CHT's laws, policies and administration. It also creates opportunity for all participants to interact with each other.
Thematic Sessions: Seven thematic sessions were conducted by highly professional resource persons in the training. The topics covered in the training are- Land, Forest and Natural Resources Rights of ITPs in International Laws, National Laws/Policies and Implementation in Bangladesh (conducted by Prof. Dr. Sadeka Halim, Dean, Department of Social Science, University of Dhaka);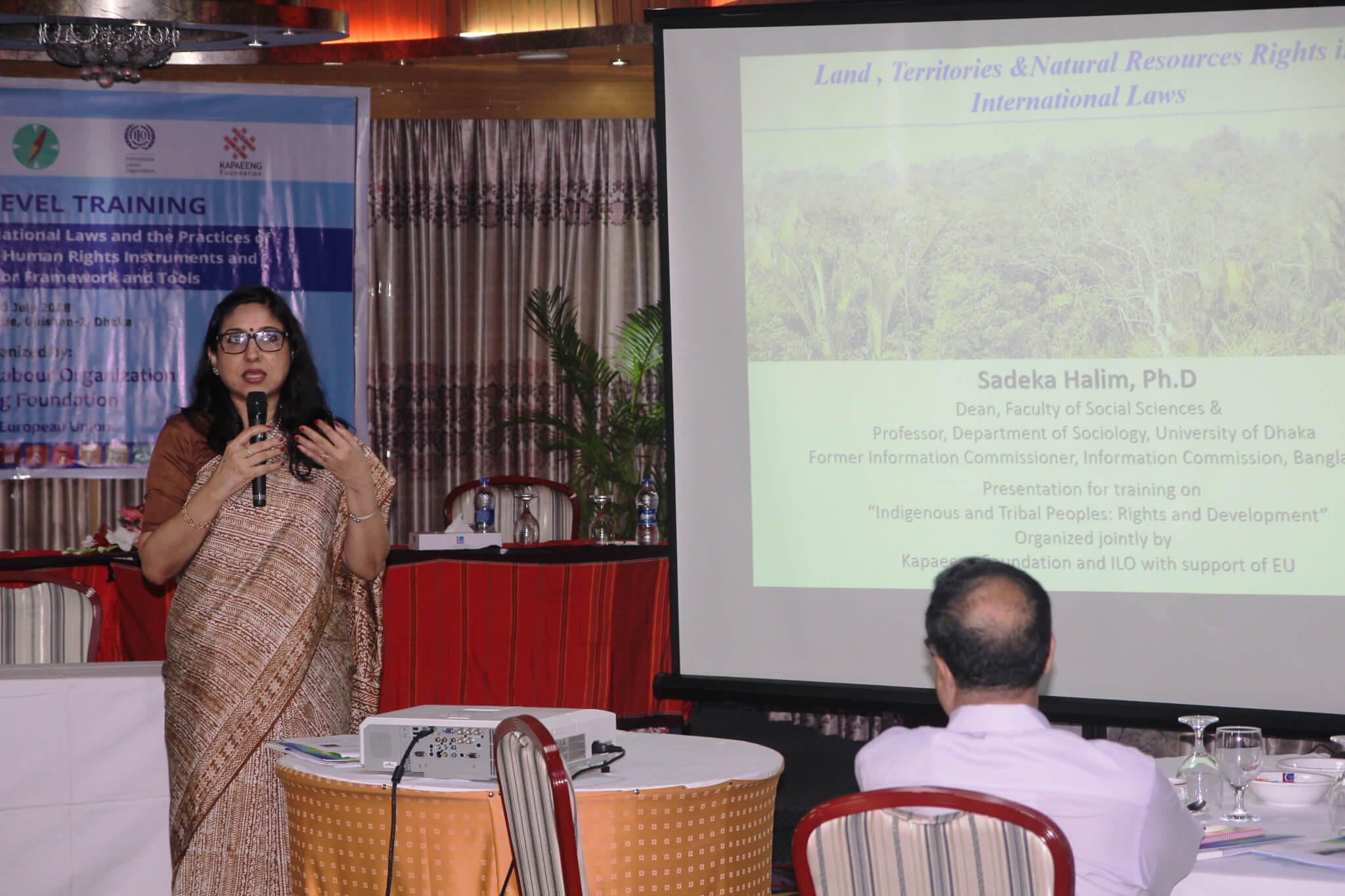 Indigenous and Tribal Women in Perspective of CHT and Plain Land (conducted by Dr. Ainoon Naher, Professor, Department of Anthropology, Jahangirnagar University); and Indigenous Navigator Framework and Tools (jointly conducted by Mr. Alexius Chicham and Mr. Pallab Chakma); Leave No One Behind' 2030 Agenda: Sustainable Development Goals and ITPs in Bangladesh (conducted by Ms. Sarah Sabin Khan and Ms Lumbini Barua, CPD); CHT Accord and Conflict Resolution; Implementation Status, Challenges of Peace and Development in the Chittagong Hill Tracts (conducted by Mr. Naba Bikram Kishore Tripura ndc, Chairman, CHT Development Board); History, Traditional Institutions, Governance and State Laws on the Practices of the CHT Regulations (Barrister Raja Devasish Roy, Chakma Circle Chief and Former Assistant Advisor to Caretaker Government of Bangladesh); and  Human Rights Instruments and ITPs in Bangladesh (Mr. Sanjeeb Drong, Columnist and General Secretary, BIPF).