Heinous attack and torching of indigenous Mro houses by Lama Rubber Industries in Bandarban
It's been alleged that Lama Rubber Industries set fire and attacked Rengyen Karbari Para of Soroi Union in Lama Upazila of Bandarban District. In this attack, 7 houses of Mro villagers of Rengyen Karbari Para were completely burnt down and 2 houses were demolished. The incident occurred on 2 January 2023 at around 1am.
Sources said that, more than 150 Bengali settlers including rubber plantation workers and 4 truckloads of outside labourers led by Delwar, Nuru and Mohsin, who are in charge of Lama Rubber Industries conducted the arson attack while vandalizing and looting the houses of Mro villagers at the same time at Rengen Karbari Para of Sarai Union.
During the attack, 7 houses of Mro indigenous villagers including Chamrum Mro, Singchyong Mro, Langnok Mro and Ringyong Mro of Rengyen Karbari Para were torched and the houses of Rengyung Mro and Two Thang Mro were completely destructed. Besides, the attackers also looted 3 mobiles, chickens, goats and so on from the Mro villagers.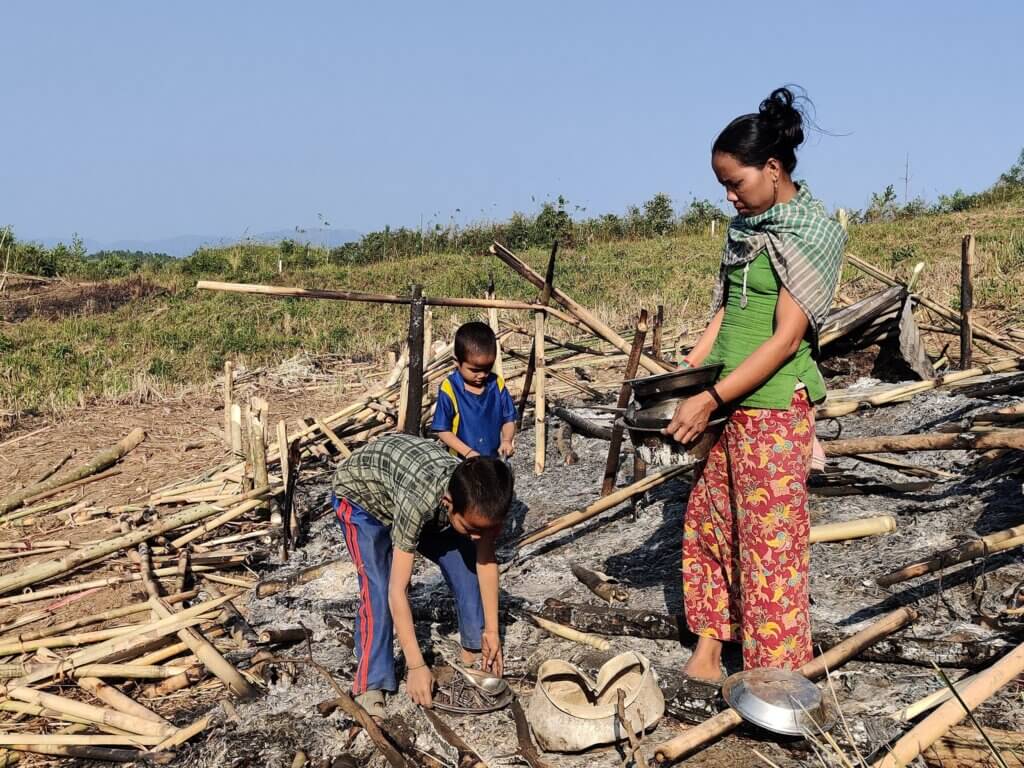 It's been alleged that, a group of perpetrators associated with Lama Rubber Industries Limited has cut and set fire on 350 acres of cultivable lands of indigenous Tripura and Mro people at Langkom Karbari Para, Joychandra Tripura Karbari Para, and Rangen Karbari Para of Sarai union under Lama Upazila of Bandarban district on 26 April 2022. In the fire, 10,000 bamboos to sell to the market has also been burnt in the fire and the livelihood of 200 villagers of 39 families faced severe food and water crisis.
After the 26 April 2022 attack, at least 11 times more attacks and 2 fabricated cases were filed in 2022. These attacks and conspiratorial activities of Lama Rubber Industries are mentioned below-
On July 13, Kamal Uddin Moazzem Hossain, Uhir Uddin's gang of of Lama Rubber Industries attacked the office of Bhumi Raksha Sangram Committee convener, Rangdhajan Tripura, Doluchari Headman with intent to kill him.
On August 10, hired laborers of the rubber company attacked and looted and vandalized the newly built Ashoka Buddhist Vihara in Rengyen Mro Karbari Para.
On August 14, Deputy Manager Abdul Malek Lama filed a case against 11 villagers including Lama Sarai Bhumi Raksha Sangam Committee convener Rangdhajan Tripura with the Senior Judicial Magistrate Court in Bandarban.
On September 1, land grabbers looted more than 25 maunds of sweet pumpkins from sweet pumpkin farm of Mro villagers in Longkam Para.
On September 4, another false case (CR Case No-313/2022) was filed against 14 villagers including Rangdhajan Tripura and Longkom Mro, who were involved in the land protection movement, by Abdul Malek, Deputy Manager of Lama Rubber Industries Limited.
On September 6, rubber company workers attempted to kill Rengyen Mro Karbari villagers by pouring poison into their water source Kalaiya Jhiri in Soroi Union.
On September 24, people from the rubber company cut down about 300 banana trees of Rengyung Mro, a resident of Rengyen Mro Karbari Para.
On 25 September, SI Shamim of Lama Police Station ordered the villagers engaged in school construction work to stop the construction work.
On September 27, the district administration and the police issued a ban on both sides to enter the area due to the dispute between the rubber company and the villagers under section 144/45 and despite the High Court's ban, the people of the rubber company cut the forest on October 2.
From October 23 to October 26 the people of Lama Rubber Industries cut down 70 mango trees of Mro villagers and approximately 20 acres of village forest in Soroi Union.
On January 2, 2023, 7 houses of Mro villagers in Rengyen Karbari Para were completely burnt down and 2 houses were demolished.
Actions taken by the National Human Rights Commission of Bangladesh (NHRC):
Regarding these incidents, the National Human Rights Commission of Bangladesh (NHRC) advised five-point instructions. This included supporting the victim families and not harassing them. Apart from this, the Deputy Commissioner of Bandarban was instructed to investigate and submit a report. The Divisional Commissioner of Chittagong has been given the responsibility to coordinate the overall supervision and take necessary measures.
According to the instructions of the Human Rights Commission, more information is needed in the report given by the Deputy Commissioner of Bandarban. Therefore, by January 31, 2023 the commission has again asked the District Commissioner of Bandarban to provide the necessary information.
On 4 January 2023 the National Human Rights Commission has expressed anger and concern over the arson attack and vandalism of the houses of the Mro indigenous peoples in Lama Upazila of Bandarban. They said that the attack on Mro village took place due to lack of effective administrative measures. A high-powered delegation of the commission has been sent to investigate the incident. The Commission has sent a high-powered delegation headed by the Chittagong Hill Tracts Member of the Commission, Kangjari Chowdhury, to inspect the spot. Director of the commission (complaint and investigation) and district and session judge. There are four members including Ashraful Alam.
On 5 January 2023 Director (Complaints and Investigations), Md Ashraful Alam (District and Sessions Judge), Deputy Director Mohammad Gazi Salauddin and Officer-in-Charge of Rangamati Hills District Office, Md Rabiul Islam conducted an on-site investigation of the incident led by the Member of National Human Rights Commission Kongjari Chowdhury. Apart from that, Shahidul Islam Chowdhury, Officer-in-Charge of Lama Police Station, Union Parishad Chairman of Sarai Union, Mohammad Idris Company, Journalists of Bandarban District and Lama Upazila were also present during the on-site visit.