Executive Summary of the Human Rights Report on Indigenous Peoples in Bangladesh 2017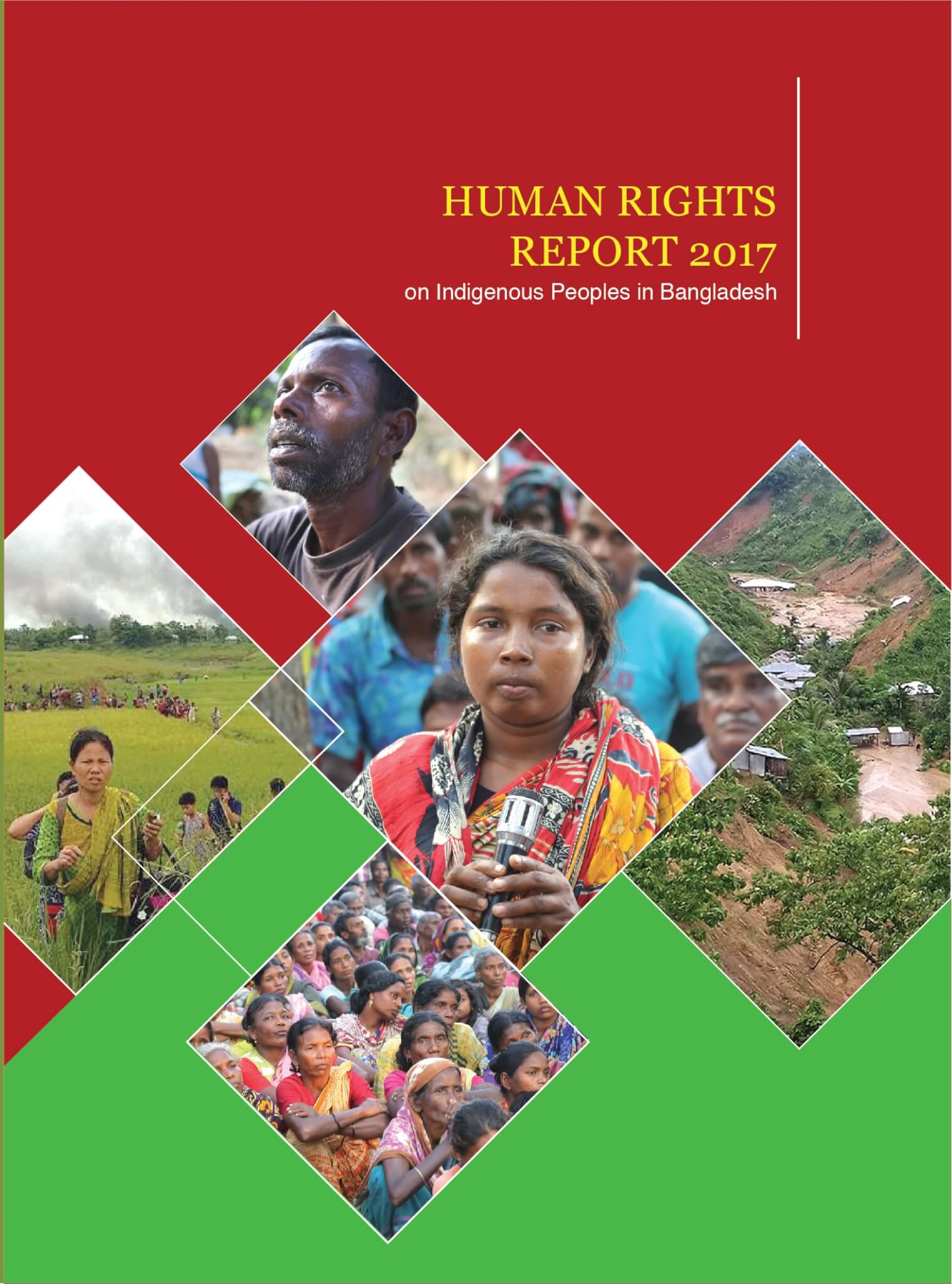 Situation of Civil and Political rights:
The 2017 has been a year of pervading concerns and anxieties for the human rights activists. The year under review witnessed a series of abduction, enforced disappearance and extra-judicial killing by plainclothes men often identifying themselves as law enforcers. Especially, enforced disappearance of people belonging to various professions have permeated a sense of insecurity, fear and panic among the people. Though the indigenous human rights activists had not been victims of any such abductions and enforced disappearances so far, yet, the indigenous activists engaged in democratic movement for their just rights had to put up with intense fear and anxiety in the face of growing human rights violations of serious nature throughout 2017. The indigenous rights activists were subject to ruthless physical torture, death in custody, arbitrary arrests on false pretexts, slipping of arms insidiously and sending them to jail on allegation of keeping arms, entangling them in fictitious cases etc. Such infringements were alarmingly rampant in 2017.
Especially, filing of invented cases against the indigenous rights workers by labelling them as extortionist, armed miscreants and terrorists are widespread. These are followed by arbitrary arrests, incarceration, detention in the camps, and searching of houses indiscriminately etc. Such repressive measures were on the rise so much so that the indigenous activists coming to attend the court on bail are arbitrarily held by the intelligence and security forces from the court premises, and tortured inhumanly while in custody before sending them over to jail again implicating them in fresh cases. Thus, the year 2017 was eventful as it bore evidence to 10 killings, 141 arrests of indigenous rights activists and innocent villagers, filing of fabricated cases against 161 persons. Numerous atrocities and communal assaults were committed leaving 203 people injured (of them 9 belonged to indigenous peoples from plains) while 79 houses came under unceremonious searches.
The people came under assaults and arrests include: public representatives, Headman (mouza head) and Karbari (village head), women, school and college students. Many of them were subjected to inhuman torture in custody of the security forces prior to their production before the court. Incidents like attacks on the peaceful procession & demonstration by the law-enforcers and security forces were a commonplace. There were at least three incidents in which the victims were so critically injured following inhuman physical torture by the security forces that the police refused to accept them as accused. In a similar kind of incident, as the police refused to accept, one Romel Chakma, an HSC examinee arrested at Naniarchar on 5April 2017 who died on 19 April during treatment under security custody. No legal action was taken against the members of the concerned security personnel who were involved in such a horrendous crime. This is one of many such dreadful examples where the law-enforcers and security personnel are being provided with full impunity and can go scot-free, though involved in criminal acts which, in turn, constitutes one of many challenging obstacles that stand in the way to establishing good governance and rule of law in the CHT.
Land and Natural Resources
In 2017, around 20,000 acres of lands belonging to indigenous peoples were brought under the process of acquisition, mostly for the establishment of special economic zones, tourism complexes, business establishments and creation of new reserve forests. Land dispute in the CHT remained unresolved during the reporting year. The implementation process of the CHT Accord, as the crux of the CHT problem, has been in limbo for long. No progress could be made in this regard as the Land Dispute Resolution Act 2001, the basis for resolving land dispute, was found contradictory to the CHT Accord in many aspects. In October 2016, the government amended the CHT Land Dispute Resolution Commission Act 2001 on the basis of recommendations of the CHTRC. But there are still many challenges in implementing the said law for resolving land disputes. The work of the commission is seriously impeded by its lack of manpower, office set-up and the absence of Rules of Business to supplement the provisions of the Act.
Moreover, the year can be considered as one of the critical years for the indigenous peoples in view of numerous factors that contribute to make their life worse and affect their societal peace. The hate-filled-arson attack on the indigenous peoples of Longadu in Rangamati Hill District is simply horrendous in scale and nature. This hate spell aimed at burning the indigenous villages was executed on 2nd June 2017 by the Bengali Muslim settlers with an open support from the army and the police in Longadu under Rangamati Hill District of the Chittagong Hill Tracts. About 250 houses and shops of indigenous villagers were vandalized and looted before they were set to fire. An aged woman named Guna Mala Chakma (75) was killed in this arson attack. As reported, the Bengali settlers also physically assaulted 3 (three) indigenous villagers during the attack. None of the indigenous victims could save any of their properties during the mayhem. Thousands of indigenous villagers including women and children had to flee the scene of violence to escape the ferocity of attack that was raging through and hid in the jungles or took refuge in the nearby villages. The majority among the survivors came under open sky overnight and had to go through the plight of spending the night with no roof over head bracing incessant monsoon rains without food, clothe and Medicare facilities. Government support was meagre and belated.
The land grabbing scenario of the indigenous peoples in the plains is also miserably depressing. The majority of the indigenous peoples in Moulvibazar and Tangail districts are living in fear of getting evicted from their ancestral lands. Moreover, the Government failed to provide a satisfactory solution to the 1200 indigenous Santal families who were evicted following an arson attack that took place on 6 November 2016 at Bagda Farm, Sahebganj under GobindaganjUpazila in Gaibandha district. The government is yet to take any measures to address the issues of land alienation of the plain land IPs or form a separate land commission for them to deal with land issues, even though a number of formal pledges to this effect were made by now. What is more agonizing is that indigenous peoples are often put into unnecessary hassles while dealing with land related cases across the country.
Situation of the Rights of Indigenous Women and Girls
No mechanism in Bangladesh is effective enough to protect women& girls from gender violence. The number of incidents of violence against indigenous women have been on the increase every year. In fact, it is one of the most widespread violations of human rights in Bangladesh. There are many dimensions of human right violation against indigenous women ranging from rape, attempt to rape, to killing after rape, physical & mental abuse, kidnaping, trafficking and so on. Among them rape has particularly become one of the key concerns of indigenous communities in recent years in the backdrop of repeated denial of justice to women and girl victims, and the continued prevalence of a culture of absolute impunity enjoyed by the perpetrators.
A total of 46 cases of violence against indigenous women were reported from 1 January 2017 to 31 December 2017. Out of 46 such cases, 19 were reported inthe plains and 27in the CHT.As ofJanuary 2017, 56 indigenous women were sexually or physically assaulted. At least 12 women were raped, 8 were killed after rape while attempt to rape was made on 9 other women. Among other incidents recorded during this reporting period include 4 gang rape and8 kidnapping. On the other hand, out of 75 alleged perpetrators, 64 were reported to be from the mainstream Bengali community and 04 from indigenous communities. The age of the victims is ranged from 3 to 55 years.
Rape was identified as the most severe violation of human rights against indigenous women & girls in 2017.The number of rape victims reported in 2016 were 16, which came down to 12 in 2017. Most of the rape victims were children and girls below 18 years of age. In most of the cases, perpetrators used lucrative food items to allure the victims. Out of 12 such rape cases in 2017, at least 6 of them were committed in the plains and the remaining 6 cases were reported in the CHT. Most of the offenders were identified as members of the mainstream population. However, at least 2 indigenous men were reported to have been involved in such criminal act.
State of Children and Youth
The state of human rights of indigenous children and youth in Bangladesh remained more or less similar to what it had been over the past several years as documented by Kapaeeng Foundation. While the overall human rights situation of indigenous peoples remained far from acceptable, the human rights situation of indigenous children and youth in 2017 underwent some mixed developments. With a number of positive developments, initiated by the government, the full and proper realization of human rights of indigenous children and youth continues to be obstructed by numerous unyielding challenges. Among the failures of the government in the area of the rights of the child and youth in 2017, the deaths of 10 children in Sitakunda under Chittagong district from preventable diseases would be considered the worst.
Similar to previous years, the right to education in respective mother tongue of different ethnic children remained in the focus throughout 2017 including the government policy on it. After repeated promises over past five years, government finally made it to introduce mother tongue based pre-primary education through distribution of textbooks in five indigenous languages. However, it failed to undertake other measures considered essential to make the initiative truly functioning. Aside from this development, nationalization of 210 primary schools in the CHT can be considered a remarkable achievement by the government in 2017, although many typical challenges such as remoteness and teacher shortage in indigenous communities continued to create barriers on the way to enjoying the right to education by indigenous children and youth.
Many pre-primary indigenous students of different parts of the CHT as well as the plains have not yet received textbooks in their respective mother tongues launched by the government in January 2017 for the first time in the history of the country. The Ministry of Primary and Mass Education made a decision to publish textbooks for indigenous children in the following languages – Chakma, Garo, Marma, Sadri, Santali and Tripura at pre-primary level in 2012 in line with the Education Policy 2010. A national committee composed of indigenous experts in the field, among others, was also formed in order to monitor the process. After years of hue and cry the Ministry finally made it to produce and distribute around 50,000 pre-primary textbooks in five languages (except Santali), beginning on January 1, 2017 across the country. An estimated 25,000 indigenous children reportedly received these books.
Present State of Implementation of CHT Accord
The government continues to claim that 48 clauses out of 72 of the CHT Accord have been fully implemented and 15 clauses have been partially implemented while remaining 9 clauses are under implementation process. On the contrary, the PCJSS says that only 25 out of 72 clauses have been implemented and 34 clauses remain totally unimplemented, while 13 clauses have been partially implemented. Besides, the core issues, such as, legal & administrative measures for preservation of tribal-inhabited characteristics of CHT; transfer of powers and functions including general administration, law & order, police (local), land &land management, forest and environment, communication system and so on to the CHT Regional Council and Hill District Councils and holding elections of these councils; returning of dispossessed land to the indigenous owners in resolving disputes through Land Commission; rehabilitation of the returnee refugees and internally displaced indigenous families; withdrawal of all temporary camps including Operation Uttoron; cancellation of land leases given to non-residents; etc. have either been left unimplemented or partially implemented.
It is worthy to be mentioned that in 2017, few initiatives of the government in regard to implement the CHT Accord are appointment of two Chairmen of CHT Land Commission and Task Force on 10 December, and under construction of CHT Complex in Dhaka. Despite so, no progress has been achieved in resolving long-standing land disputes by the Land Commission and in rehabilitating the returnee tribal refugees and internally displaced tribal families on their respective lands & homesteads by the Task Force in 2017. No single meeting of the CHT Land Commission, Task Force and CHT Accord Implementation Monitoring Committee has been held so far, and adequate funds, manpower and logistic supports have not been provided to these bodies to run their day-to-day functions in 2017. No function/subject, out of remaining 16 functions/subjects, has been transferred to the Hill District Council in 2017. Several crucial Rules of Business, such as, Rules of CHT Land Commission, Election Rules and Electoral Rules of the three Hill District Councils, etc. have been left continuous hanging and even the government did not take any initiative for amendment of any general or special law applicable in CHT despite implicitly stipulated in the Accord to do so.
Environment and Climate Change
At least 131 people, including a number of indigenous and non-indigenous women and children were killed in landslides in the hilly districts of Bangladesh in 2017. 121 people died alone in Rangamati while the figures are 4 and 6 in Khagrachari and Bandarban respectively. Four members of Bangladesh Army including two of its officers are among the deceased in Rangamati. Among the people died, 45 were killed in Manikchari, Bedbedi and Reserve Bazar areas of Rangamati Sadar upazila while 47 other were killed in Kawkhali, Kaptai, Bilaichhari and Jurachhari upazila.
On the other hand, 227 were injured and 15,000 families were directly and indirectly affected by the landslides in Rangamati District. Of them 12,450 families suffered alone in Rangamati Sadar, Kaukhali, Kaptai, Jurachari, Bilaichari, Rajasthali and Naniarchar Upazila, according to local administrations. Many of them were admitted to local hospitals. Hundreds of acres of plantation and grove were damaged when the landslides spread thick layer of soil which makes it vulnerable for cultivation. Following the disaster, Rangamati District Administration opened 19 shelter centers for the victims. But the amount of relief and financial support from the Government side were inadequate for the victims.
It is seen that no coordination has been made in combating the calamityaftermath. The subject of coordination and supervision of relief and disaster management falls under the jurisdiction of CHT Regional Council, however, the CHTRC has not been involved in any of the processes. Even the Chairman of Rangamati Hill District Council were not called to any meetings relating to the landslide arrangement organized by the District Administrations. The relief was distributed with the leaders and member of ruling party. This creates allegation of misusing the relief money.
In the inter-ministerial meeting, a 27-member committee was formed to identify the reasons that had contributed to great-ever devastating landslide. The Additional Secretary of the Ministry of Relief and Disaster Management wasmade the convener of the committee. The committee was formed with the members ranging from the representatives of office of the Prime Minister, Cabinet Division, Ministry of Environment & Forest, Ministry of Local Government, Land Ministry, Fire Service, Department of Armed Forces, representatives from Dhaka University and Chittagong University and the Deputy Commissioners from 5 districts. It is utter surprise to observe that no representative has been accommodated from CHTRC and three Hill District Councils.